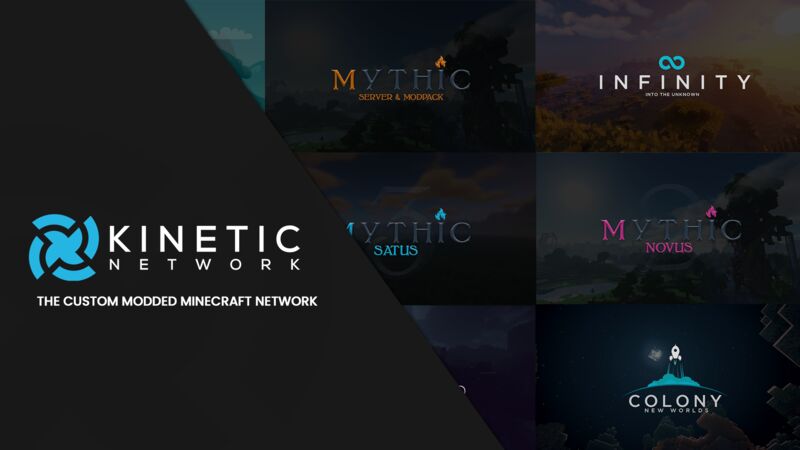 HELLO THERE
Thanks for checking out our page. The Kinetic Network has been around for over 3 years hosting our own custom-built modpacks. In 2020 we also started to offer FTB and Curse modpacks alongside our own.
OUR CURRENT SERVERS:
Ancient Kingdoms [NEW]
Mythic
Mythic: Novus
Infinity
Colony: New Worlds
Skyfactory 4
You can find more info about our packs and servers if you keep reading, but first a bit about Kinetic.
We're not going to make and brash claims like no banned items, or no lag or bugs. This is modded, we all know that's not true. What we will claim, however, is that we're there all the time fixing issues, cracking down on lag, and updating our servers to have as little banned items as possible.
Our servers have custom edits to our claim system, backups, and advanced block logging tools to keep your base safe.
We also have commands like /help to help you learn how our servers work. A ticket system in our discord for support and an active team always listening to your feedback.
All servers have playershops, events, and PvP zones.
COME AND SAY HELLO!
Like the sound of that, then drop in and say hello :D We have an active and friendly community and tools to help you find a group to play with. https://discord.gg/qbQfEWugBU
OUR SERVERS
Alright, I'll quit going on now, here are our servers!
You can find all our custom packs here:
https://www.technicpack.net/profile/1047814/modpacks
https://www.curseforge.com/members/sleepingtea/projects
Ancient Kingdoms
Build your own Kingdom and fight and trade with others. With the amazing Ancient Warfare mod and Minecolonie. You can build your own Kingdoms packed with NPCs for you to look after and command. The world of AK is rich with mythical beasts like Dragons, hippogriffs and more. (You can even ride the Dragons :D)
ak.kineticnetwork.net (IP comes with the pack!)
MYTHIC
A custom modpack built by us here at Kinetic. It's built around all the best magic mods for 1.7.10.
mythic.kineticnetwork.net (IP comes with the pack!)
MYTHIC: NOVUS
A follow on from our Mythic server, but for 1.12.2. This hosts all the best magic mods for the 1.12.2 update.
novus.kineticnetwork.net (IP comes with the pack!)
INFINITY: INTO THE UNKNOWN
A real mix of everything. Tech, magic and a load of unknown dimensions for you to check out.
infinity.kineticnetwork.net (IP comes with the pack!)
COLONY: NEW WORLDS
Blast off into space and check out over 20 planets. With a huge range of tech and space mods, you'll have loads to sink into.
colony.kineticnetwork.net (IP comes with the pack!)
SKY FACTORY 4
Skyfacotry 4 as it should be. The prestige system is fully enabled, and we've added in even more ways for you to get points.
sf4.kineticnetwork.net