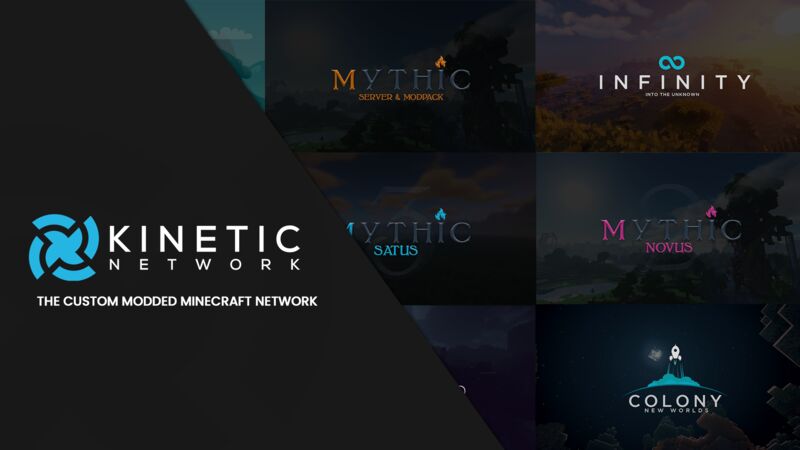 HELLO THERE
Thanks for checking out our page. The Kinetic Network has been around for over 4 years hosting our own custom-built modpacks. In 2021 we also started to offer FTB and Curse modpacks alongside our own.
All our servers come with, advanced claiming systems, backups and custom patches.
Our goal is to offer lag-free, stable servers. So we use super-fast hardware and optimise our servers to keep them running smoothly. Any lag does pop up, our staff team are on hand to fix the issue.
We also offer support for all our modpacks and servers, via Discord. Any issues, or questions, we're on hand to help.
Find out more about Kinetic on our website: https://kineticnetwork.net/
OUR CURRENT SERVERS:
Horizons [NEW] - horizons.kineticnetwork.net
Survive [NEW] - surivie.kineticnetwork.net
Skyfactory 4 - sf4.kineticnetwork.net
Mythic - IP comes with modpack
Mythic: Novus - IP comes with modpack
JOIN OUR DISCORD
If you're not sure how to join our servers, or just want to pop in and say hello. Join our Discord server: https://discord.gg/qbQfEWugBU
SERVERS & DOWNLOAD
You can find all our custom packs here:
https://www.technicpack.net/profile/1047814/modpacks
https://www.curseforge.com/members/sleepingtea/projects
HORIZONS
Horizons is a tech-based modpack for 1.16. It is packed to the brim with amazing tech mods, quality of life features, and new biomes, dungeons, and dimensions to checkout. With amazing mods like Create, Better End, Mekanism, Environmental Tech, and Alchemistry
horizons.kineticnetwork.net
SURVIVE
Survive is a survival modpacks. Everything here is built around giving you more of a challenge when it comes to Minecraft. Mobs are faster, stronger, and more hostiles. The health system has had a full overhaul and you'll now have to worry about temperature and water. Survive brings a challenge, but we wanted to do that without annoyance. We've built Survive to try and feel like very death is warranted, not that you got cross-mapped by some MGL skeleton.
survive.kineticnetwork.net
SKY FACTORY 4
Skyfacotry 4 as it should be. The prestige system is fully enabled, and we've added in even more ways for you to get points with our point shop.
sf4.kineticnetwork.net
MYTHIC
A custom modpack built by us here at Kinetic. It's built around all the best magic mods for 1.7.10.
mythic.kineticnetwork.net (IP comes with the pack!)
MYTHIC: NOVUS
A follow on from our Mythic server, but for 1.12.2. This hosts all the best magic mods for the 1.12.2 update.
novus.kineticnetwork.net (IP comes with the pack!)