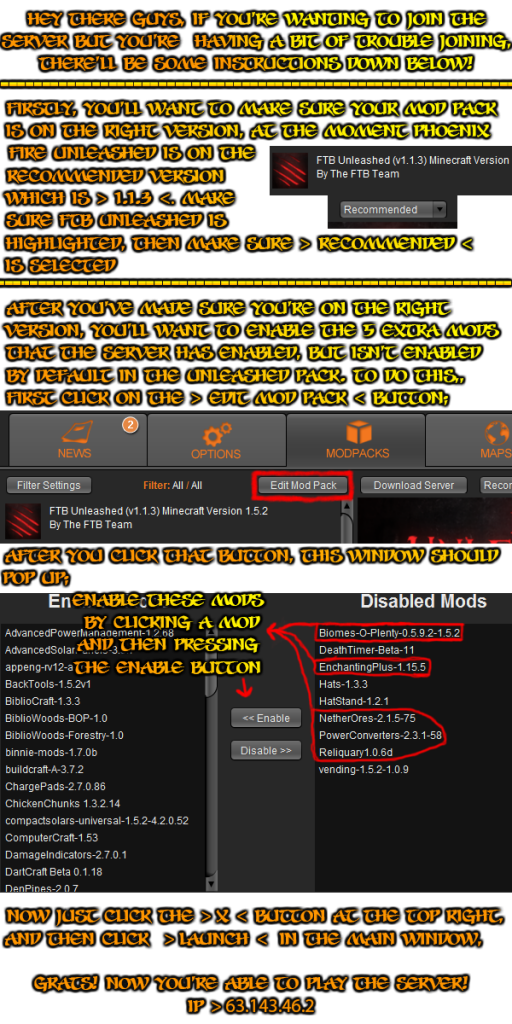 Server Specs
Intel E3-1230v2 Quad Core 3.3Ghz
32GB DDR3 RAM
128GB SSD
Windows Server 2008
100 Mbps
Location: Dallas, TX
Spend less time worrying about lag, and more time just playing, and enjoying all the features Feed the Beast Unleashed has to offer! Experience what it's like to have a truly dedicated owner, speeding endless hours working out what needs to be fixed, what can possibly grief, adding Mini Games and other fun activities while you sit back and just play the game!
---
|Restricted Items|
Nuke |
They destroy shit, kill people, and can't be stopped by bukkits events. Enough said.
Trade-O-Mats |
This item has a temporary fatal crash bug, it's easily fixed with a server restart, but nobody likes it when the server lags, or crashes. So for the better of the server, and the players, I've temporarily disabled them.
Some of our features;
|Plugins|
Essentials

Towny

Automated help

LWC

Much much more to come!
|Other features|
All mods fully accessible WITHOUT having to donate.

Get Donation Credits for voting!

A truly dedicated developer/owner, that's constantly working round' the clock to improve the server. ;)

And MUCH MUCH more!
So why not give us a shot? We've got staff members doing constant lag checks, and controlling the lag so we stay at 18+ TPS at all times!
IP Address
unleashed.phoenixfirenetworks.com
or
63.143.46.2
Website
phoenix-fire.enjin.com
Teamspeak IP
phoenixfire.teamspeak3.com
There are no reviews for this server yet, you can be the first!