pin_drop
inf.fluxrealms.net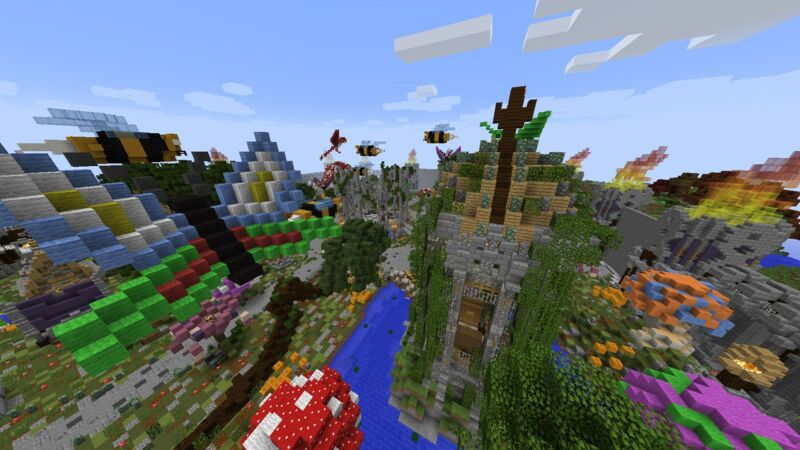 Server IP: play.fluxrealms.net
Server Website: www.fluxrealms.net
Discord Server: https://discord.gg/RYeW5k6
Hello! Flux Realms FTB Infinity is a new server, freshly opened, and developed by myself. So now is the time for you to join so you can really leave your mark and get ahead of the competition! Since its the opening month, we are giving away a FREE rank to any player that comes on the server! So get online now and make sure you collect your free rank and money! The server is a LAG FREE, No PvP Feed The Beast Infinity Evolved server We strive to make your experience better everyday with new updates, bug fixes, and better content! Some of the features are here!
Crates (Win all the amazing prizes you have been wanting!)
Player chest shops (Sell your hard earned items for some cold hard cash!)
Auction House (Sell the items you have to other players and make cash!)
Keep Inventory ON (Don't worry about loosing your gear, just have fun!)
GUI Shop (All of your basic needs can be found here, anywhere!)
100 Slots (Play with all your friends)
Vote Rewards Parties (Group up with your friends and adventure together)
No Lag (Play with your friends in peace!)
No Lag, Nice Admins , And Of Course The Best .Warp Shop
good server it is fun to play on
Cool server,love the plugins,almost no lag.
Very nice server to play , no lag , nice plugins and very funny
After being offline due to no computer for so long, this server was awesome to jump onto, they made up for the inability to access a realm by selling the goods in the shop, awesome community ( active too)
What a truly amazing server. No lag, No jerks, No greedy people. Everyone is amazing
I've played on this server for about a week and a half, and I have to say I love it. People are friendly, the shop/economy system works fine, and the staff listens to the community.
I just joined and so far I really like this server. It runs very smooth with no block lag (which makes the game unplayable in my opinion). I will post again after more time played here.
i love the server it is really fun and I enjoy playing here great staff and great place to play in genaral
Great server, no lag, enough players, great rewards. -Koentjes
Amazing and #1 FTB server! Been playing for a while now and every is so friendly, staff are just pure awesome and lagg, well what lag! Spawn is beautiful, rules are simple and the community is great! What else can I say. The perfect server! Would recommend so I can't wait to see you on!
I really happen to enjoy this server. No lag at all because of how often it wipes entities. Really easy to claim land to make sure that people can not destroy anything you have built and the staff is super responsive. Just today a problem happened on the server the all the banned items somehow became unbanned and right away the staff started to fix it as fast as possible.
I really like this server. The staff are really nice and helpful. When I first got into the server, everyone welcomed me. The server runs great. No lag, everyone is nice and helpful. Just an overall great server!!
Great server, runs smooth, great community. Would recommend. IGN 10/10
IGN: Shadelin_Night OK, been looking around for a new server... I found this one and it is pretty good... No issues that I have seen with rubber banding and the chat is decent. I would recommend this server...
Other than a painful 12-hour rollback at the beginning to deal with a server-breaking problem this has been a fun and lag-free server.
It's only been about 3 days, but I am thoroughly impressed. The server holds up to its statement of there being "no lag". The server is lag free, and anytime there might be lag, the staff work overtime to make sure it's fixed. This server has one of nicest communities I've ever seen in a minecraft server. The owner is very nice, and so is all the staff. The discord is definitely friendly. Though there are a few banned items, they are only there to keep the server lag free and super user friendly. The vote crates are a very nice touch along with the shops that exist inside spawn.

Overall this server is amazing. Being a modpack server it does an amazing job. Would recommend it to any and all friends.

~ SirSolar
Where to start... well firstly, the server is still fairly new, which means when i go look for a meteorite for instance, i can find one untouched or find an untouched elderitch portal. the server also hardly has any lag as well as a super friendly community with responsive admins and helpers. My one qualm is that the portal to the twilight forest is deactivated, but this can be overlooked many other servers have done the same to prevent lag, and at least here you can purchase twilight blocks and such at the shop as compensation. Overall haven't found a server i have liked better, and believe me I have looked, I plan to stay on this server for the foreseeable future.
IGN Whiteguy48
Nice server :D well setup and Nice community
One of the best servers I have every played on everyone is so friendly and helpful and everyone welcomes you no matter what.
~toxiczombie34~
This server is one of the best Minecraft servers I've played in general. Extremely helpful and amiable admins and moderators, and a similar community. A few banned items, but the reasoning behind these restrictions are generally well-founded. There is some lag, but compared to other experiences I've had on Minecraft, this has top-tier service.
This is a great server 10/10 would minecraft again.
This is a fellow member of the Fluxrealms server, been playing for quite some time now so i'm not bsing anything. First, this server has dedication, the owner (Thalia) will help you with almost anything if it's in discord or actual in game stuff. Second, the community is kind and fun to talk to as members in discord and in-game mess around with each other, Third, the server has NO LAG making mining and building easier for you. Last but not least and most importantly, the quality of the whole server in general as Thalia (the owner) thrives to expand the server count, and the community. Come join Fluxrealms and see me on there!!

Thank You,
~SinfulAngel
Good server no one bothers me when i build i like it.
Great new server. Everyone is friendly and helpful.
Very happy with the server. Have been playing, on the server, for about 2 weeks. Everyone is friendly and willing to help out. For the most part, the server is up 24/7 and if there are any issues they are handled in a good amount of time. Plenty of room to build, mine, explore, whatever you are into.
Spawn has a great build and many things to purchase if you need them. Plenty of biomes to make use of and everyone is, for the most part, spread out, which is nice not having to run into other folks borders.
So far I haven't experienced any lag whatsoever! Which is definitely a plus because I've been looking for this type of thing for a while! Spawn looks amazing, I wish I had talent like that lol but so far I can't wait to explore and create amazing things with the friendly people here.

IGN: Jubboko
I love small servers because of their sense of community, and boy o boy does this server deliver. Respectable staff, and a small close knit player base. Whip it all together and you have the making of a great server!
Its been quite awhile since I've played any sort of minecraft but a friend recommended I download the modpack and join the server. The server is really great and has very helpful people.
Quality server, not too crowded, dedicated staff, easy to start up.
Realy fun server. Welcoming players and no lag. Realy gr8 to be on it. Hope too se more of you on it!
Very good server. No lag, friendly users and nice just very nice.
The buildings are extremely pretty :D Pretty friendly community, and good overall. The only bad thing is that town costs $1500 to make which is eh, but i'm beginner so it might be hard because of that. This could discourage new people from playing.
This server is chill and not laggy and i would love to play here
Since joining the server I've had a great experience. I've experienced very little lag, been quickly helped by staff, and been helped a lot by other members as well.
Have not played mine craft in a quick min, but i downloaded ftb and now love it again. T His server i recommend to everyone.
Great server, the people are friendly, there's no lag and there is always someone to help you.

I would recommend this server 10/10
IGN: HeyItsFrance

So far this server has been really cool. The community is great and extremely helpful, along with the helpful commands to get you started, which some other servers don't allow. Great job, keep it going. One thing I do recommend though, is more possible items in the shop? Even if they are more expensive, I would still pay if the item was just time consuming to get.

(P.S. The spawn is really cool)
Pretty nice players, not alot of players though but they are nice, no lag at all for the time Im on decent admin shop. only things I would change is /rtp cooldown and some of the prices at admin shop but overall, really great server 9/10!
It has nearly no banned items and no lags.
Great server, Friendly people :)
Very nice spawn area with very clear sections. Nice quiet server with straightforward rules.
Simpe and effective shop nice vote crates and good banned items
Spawn is nice. Rules are fair and straightforward. Really enjoying it so far. Community feels very friendly and laid back.
Small quiet, yet helpful server with no lag and good uptimes. Will recommend to friends
No lag 10/10 Everyone was friendly and helpful.
Amazing server with great staff and great people. Love to get on it every day!
the title doesn't lie, the only banned items are those that can be used for griefing and there is little to no lag.
great and helpful community and an all around good server.
For the short period i've been on this server i've had nothing but good encounters with the staff and players,
i would recommend anyone to play on this magnificant server
The Server is 100% LAG FREE! The people is nice, btw I got a beautiful dragon wing of an random guy :)
And it is a fresh small server:)
Not lag and friendly community, no griefer, too
Its a good server with not much lag :D
everything isnt finshed yet but its a great server as it is runs good havent gotten any lag
When I first joined (Today) everyone welcomed me, such a pleasure to be on this server with everyone... :)
This server is full of friendly, helpful, and active people. I'd reccomend to anybody looking for an FTB server
Just Joined today, friendly people and staff, best server I've seen for having fun, the part I like the most is Keeping my inventory on death.

IGN: Jacques0726
Great server friendly staff, NO LAG AMAZING. Will tell my friends.
These days, it's rare I take the time out of my day to play video games since I put forth my devotion to my college courses and my job since hey, money pays the bills! Though, this server is something that I've found quite enjoyable so far and I've found myself coming back on consistently, something I never tend to do.

I only found out about this server through a buddy of mine who urged me to try it, I rarely play any modpacks as I'm more of a vanilla player than anything. This server is only the third time I've played on a modded server, and from what I've experienced already, I'll be sticking around this community for sure. The player base on Flux Realms is absolutely astonishing, the players help each other out when someone is in need, especially new players like myself. I was donated 5 Quintuple Compressed Cobblestone which I smelted down into seared stone bricks, saving me approximately 270,000x cobblestone mining.

The players are talkative, the administrators, moderators, helpers, and server owner work together to form an efficient and closer relationship between staff and players, no wonder everything goes oh so smoothly when an error occurs.

What else more could you want from a server? I'd say nothing.

~Explosions
Flux Realms is a very good server to be a part of, for many reasons. In order of importance I would say the people are really friendly, but not overly much so. Staff on the server seem kind enough, and are not mega strict, to me they are approachable but maintain their domain as staff on the server, keeping the peace and enforcing rules as needed. There are very few banned items, most of which are simply banned for good reasons (even if there are items banned that I would prefer to use). The server has very little lag, if any. (This is in reference to server-side lag, not personal computer/client lag, of which no server can be responsible for) Also, one very nice addition is the server doesnt seem to have a kick/afk timer, which is really helpful in some cases. There is clearlag every so often, which can be bothersome in some cases/mods, but it helps maintain the no lag I mentioned. Overall its a very good server, and I enjoy my time playing on it.
Only been playing on this server for a few days now, but really enjoying it. Great community: the people on the server are very nice and helpful. Mods and admins don't abuse their powers and are kind and assist in any way they can. Server barely ever has lag, and has an RTP (random teleport) command. Plus you can vote each day to get money to use in the shop. 9.5/10 Would recommend a lot, just hop on with some friends and have fun.

- xXNewAgeXx (in game)
My in game username is Mattyboia i really enjoy this server due to: no lag, rtp, and the shop system. 9.5/10
10/10 love this server no lagg and i git gud stuff
This server is really really good, it's really friendly and the community is wonderful and helpful. It truly lives up to its name, and is an absolutely great experience.

-Khips
I get great FPS on the server and I truly love the Infinity Evolved pack. Also the server is not flooded with plugins so it makes it simple and uncluttered.
Small server with a great community.
Been playing this for a few weeks, and I have to admit, this server has friendly staff and people. Long as you don't try to be a total troublemaker and do stuffs that most other server would frown upon, you are gonna have a good time when you join this server.

Banned items may mean some hindrance, but I am sure there's workaround past using other methods aside from them, right?

Lags aren't that important since I rarely get them here, so its great for (almost) smooth gaming. Even though the land size limit are small, then again, this server doesn't have much people coming online in large bulks, so I can understand that.

Overall, this server is well-deserving for more people, Go ahead, try it out for yourself! I can guarantee you, you won't miss it.
I like the way the server is set up. I would tell my friends about it.
One Happy Place FTW. Great server!
Really nice server very few banned item there is a claim system so you dont get grief 10/10 would click on play again!

poker134
Great server, friendly environment, nice people. Little banned items and very rarely is there lag. Enjoyable :)

Destructiax
Very nice server i love it :P.
Love the server, the is no lag and everyone is very freindly
Lot's of friendly people create a great atmosphere for playing on this server. Very little lag and a huge space available for players means that anyone can play at anytime. Come join our community.
amazing server extremely friendly little lag but doesn't have twilight forest
Good server low lag friendly admin. Banned items all have good reasons. Safe to play PVE and reliable.
This Server has created a community, unlike others. Full Of life fun and enjoyment. This server has a wonderful staff team, as they are hard working to make this server the best it can possibly be for the players. The server has MINIMAL (key word) to no lag. Which creates the new experience.

JOIN TODAY TO JOIN THE COMMUNITY
Great server low amounts of periodic lag. The ban list on certain items is very short resulting in great gameplay, I see a lot of potential from the server.
Great new server! Helpful staff with friendly players. No lag at all. 20tps looking forward to continue playing on here
New server with helpful folks!
Pretty Cool server, Nothing bad about it.
Great server, never too crowded, everyone is usually nice and friendly :) 5/5 stars, has every characteristic of a good minecraft server.
Good server, good Community, for size(seen around 12 people on at once) I get the feeling that the server, once it begins to be recognized more, will make it to the ranks of top rates servers, given time...lots of time...and patience...
The spawn for this server is amazing and is a lot better than the last fab server I played on. The owner is also better than the previous one that was on. This server is fun to play on and has friendly staff.
This server is awesome, I've never seen anything like this before.
The community is also awesome, they are friendly and nice ;) all in all 5/5 stars!
I typically dont leave the reviews, but after 3 days of being online I have not seen a better server that is made for players by players and not for stingy greedy people who forces you to pay to even get semi-decent stuff.
This is a great server and it has amazing staff and friendly people. This is also my first time playing FTB.
Just joined the server but players so far a very friendly and server has no lag. Looking forward to spending more time on the server.
Great Admin, Staff and very friendly people on this server. come and enjoy the fun!
I love this server and the staff is nice :)
Great server, owner is a pretty cool and friendly young man, there is little lag as well.

/tps still doesn't work, but that's okay.
Hey everyone!

Flux Realms is brand new, awesome server owned by someone motivated and very active. There is no reason why you shouldn't come. Everything in the banner is right, low banned items, no lag, etc. Come and play with us!

Eloki12
I have been on since the moment they opened and have loved every second of it. No lag, Great people and staff. The Whole map has been pre-loaded 10/10

Radthepro
Back and better than ever. Well, what once was, is now Fluxrealms. Amazing and helpful staff, great bunch of players, a server that doesnt lag - really!! Come join us and have some fun :)