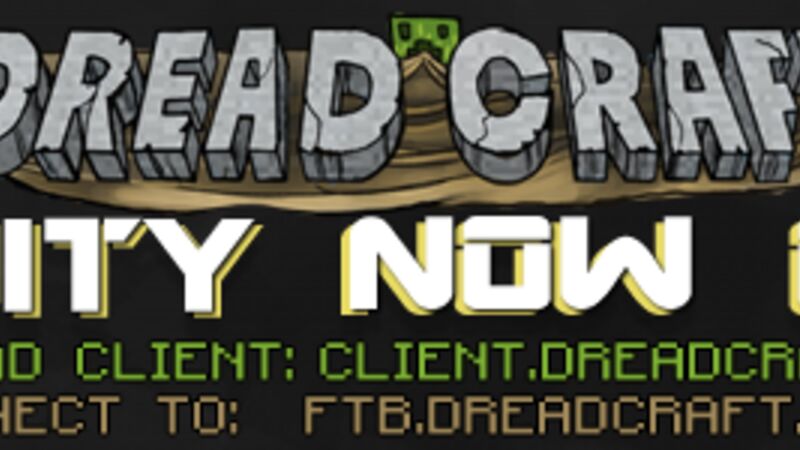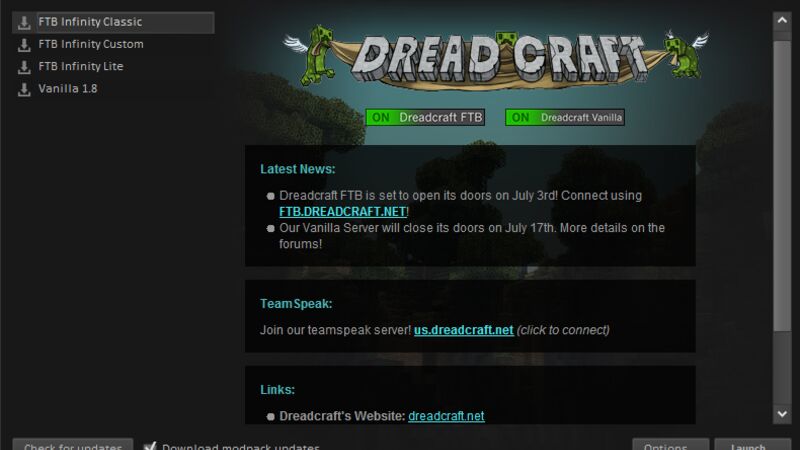 ---
IP: FTB.Dreadcraft.net
IRC: #dreadcraft & #dreadcraft_mc on Esper
TeamSpeak: us.dreadcraft.net
Website | Forums | Wiki | Launcher | Facebook
Get in on the new!
We're an old server, looking for a new feel. We've been working hard for the past couple of months to bring a new atmosphere to Dreadcraft. Something that will keep us entertained and on our toes. At long last, we are ready to introduce the new and improved Dreadcraft!
Dreadcraft Infinity!
We pride ourselves on keeping the best community possible. There are no handouts and everyone is family here. We are not for the faint of heart sometimes, so we are strictly for mature players only. One of the biggest changes we've made since switching to FTB Infinity is changing to PvE. We will be keeping some aspects of PvP (ie, arenas) however. No question is a stupid one, so newbies and veterans alike are welcome.
We like keeping our banned items list as small as possible, so we've introduced a Mining world. Where most items that can "break the server" or "bypass protections" can be used there to your hearts delight! We are always open for more information on how to make our banned list even smaller.
For a more enhanced experience, use the DC Custom launcher, which you can find linked at the top of this post. Created by our own Clovis and GeoDiablo. We have multiple options for joining the server within the client. (Note: It is not mandatory to have the DC Launcher, FTB client can be used as well.)
NEWCOMER:
1) When you join the server (ftb.dreadcraft.net), you will be spawned in the Server's spawn. It will contain screens with information. We ask you to read everything.
2) You will be unable to build/destroy until you apply for membership. This is free, and will take about 2 minutes of your time.
3) Navigate to www.Dreadcraft.net and hit "Apply", You will be asked to register and answer multiple questions. These questions help us know our players and in turn creates a community worth knowing.
4) Once registered and applied please wait patiently for a staff member to process your application.
This process will take, at most, 15-20 minutes but normally only seconds if a staff member is available.
If you feel the process is taking longer than expected, you can contact a staff member in-game using /helpop OR send a message on the forum.
5) Once your application is promoted and your name turns a lovely shade of green, you are free to use /Spawn and then proceed to punch trees.
From all of us here at Dreadcraft, we hope to see you soon!
There are no reviews for this server yet, you can be the first!